2013 BoRific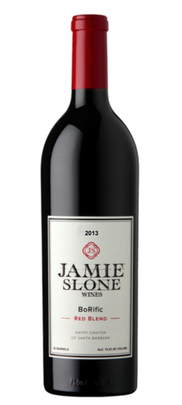 Wine Specs
Appellation
Happy Canyon of Santa Barbara
Aging
24 months – 50% new Taransaud French oak barrels / 50% neutral French oak barrels
Fermentation
4 hectoliter open top insulated fermenters
91 Points Wine Enthusiast
60% Merlot / 22% Cabernet Franc / 15% Cabernet Sauvignon / 2% Malbec / 1% Petit Verdot.
Bordeaux blend aged 24 months in new and neutral French oak. It's simply BoRific!
Wine Specs
Appellation
Happy Canyon of Santa Barbara
Aging
24 months – 50% new Taransaud French oak barrels / 50% neutral French oak barrels
Fermentation
4 hectoliter open top insulated fermenters
Wine Profile
Tasting Notes
A full-bodied young wine with plenty of dark fruits, silky tannins, plums and a long persistent finish that bodes well for aging.
Vineyard Notes
Happy Canyon Vineyard is comprised of ancient upland soils, primarily clay loam, riddled with cobbles of chert and serpentine. These deposits were swept down the canyon over thousands of years then uplifted and weathered for thousands more. The result is shallow, low-nutrient topsoil. In this environment, the vines are stressed for nutrients and water. Root growth and vine vigor are limited, ensuring smaller vines and low yields, a perfect combination for growing intensely flavored grapes.
Production Notes
Punched down three times daily. Pressed slightly sweet to allow for both primary and secondary fermentation to complete in barrel. We blended four different times to get just the right balance between these varietals emphasizing that the whole is better than any of the parts. Like a jigsaw puzzle, the flavors of the grapes fit together. Cabernet Sauvignon for the strength, color and tannin, Merlot as a filler - broadening out the wine and being the connector. Cabernet Franc as the spice component, Malbec the earthiness and Petit Verdot for sheer color, tannin, and power which has to be used judiciously in a blend.
Winemaker Notes
2013 was an terrific vintage for Bordeaux varietals. The Cabernet Sauvignon and Merlot in this years blend brings great structure, darker fruits and reasonable alcohol levels for the fruit maturity. A well balanced wine that will age nicely.
Food Pairing Notes
Just like previous vintages: Braised and wood grilled fatty meats (think rib-eye), rich stews, any game and strong cheeses compliment this wine.
Product Reviews
Tom M.
(Dec 10, 2017 at 11:19 AM)
LOVE LOVE LOVE this wine.... It's my wife's favorite too. Complex with all the varietals in it... nicely balanced and good fruit. Loved the 2012 vintage as well. It's BoRific!
Laura
(Mar 23, 2018 at 8:22 AM)
My boyfriend and I took a bottle of this wine to Finch & Fork for lunch (where they gave us free corkage for bringing in a bottle of wine from Jamie Slone Wines!) and had it with their steak salad. It was a pairing made in heaven.